UFFL CENTRAL
The on-line home of the Ultimate Fantasy Football League!!!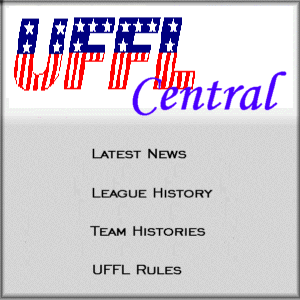 You may be asking yourself at this point, "Exactly what is the Ultimate Fantasy Football League?"

This question, believe it or not, is extremely easy to answer. The UFFL is a Fantasy Football League based in Atlanta, GA that was established in 1992. It used to be run out of Bill Carrier's squalid little apartment on LaVista Rd, but he's moved a couple of times since then.

Several teams have changed owners at least one time, one has folded, and there have been three expansion teams. There are currently twelve teams in the League. Each team's roster carries over from season to season, and there is a Rookie/Free Agent draft the week before each season starts. The regular season goes on, there are playoffs, yadda yadda yadda you know the routine.

To see further info on the League and its teams either choose an option from the image or from the list below. Enjoy your visit, and check back often during the NFL season to see how your favorite UFFL team is doing!


---
[Latest News] [Team Histories] [League History] [UFFL Rules]

---
---
Last Modified, August 4, 2001
lewaah@yahoo.com
UFFL Central - © 2001 - An Everlasting Tunes Production